Customers are the bread and butter of any business. Their point of view is critical today, with customer experience becoming more important than individual transactions. Digital platforms have made the customer more powerful by giving them the convenience to shop and share accolades and complaints on a global scale. Unfortunately, there is no scope for poor service. Angry customers can derail your business; They embrace only the ones they can trust. So cracking the customer service code is imperative.
In a digitized world, when you offer consumer-facing services, it is advisable to reduce the friction by ensuring a good balance of convenience and security through easing login experiences and faster access to applications and services across the web, mobile and social. Customer Identity and Access Management (CIAM) solution is one way of building a predictable relationship between your brand and the consumer.
CIAM solutions offer a range of attributes such as authentication standards, scalability, UX management, systems integration, analytics, and performance management. You will be able to protect the privacy and identity of consumers across any number of digital touchpoints and build the essential building block of customer experience – Trust, without losing sight of your customers and their journey while offering personalized and secure interactions. With seamless omnichannel experiences, access to your digital properties, driving conversions, and building customer loyalty, Customer Identity and Access Management (CIAM) solutions also secure your customer-facing digital platforms from malicious intruders.
CIAM is different from IAM
Before we understand CIAM, here is an overview of the basic differences between CIAM and Identity and Access Management (IAM) solutions.
While more traditional workforce IAM solutions focus on a high degree of security and access controls for internal users, CIAM solutions focus on better user experience and security for your customers. Rather than investing in modern CIAM solutions, many organizations have tried modifying workforce IAM solutions to meet customer identity and access management demands, but it's been a challenge.
Here is why.
Most IAM technologies lead to "friction," as it requires multiple, disjointed steps for a customer to create an account. Also, finding the correct information is difficult, leading to customer frustration, increased help-desk calls, and shopping cart abandonment, creating security gaps. Another major challenge is the inability of workforce IAM solutions to scale and support millions of users and devices required for customer management.
The table below shows the key differentiators between Workforce and Customer Identity Management solutions.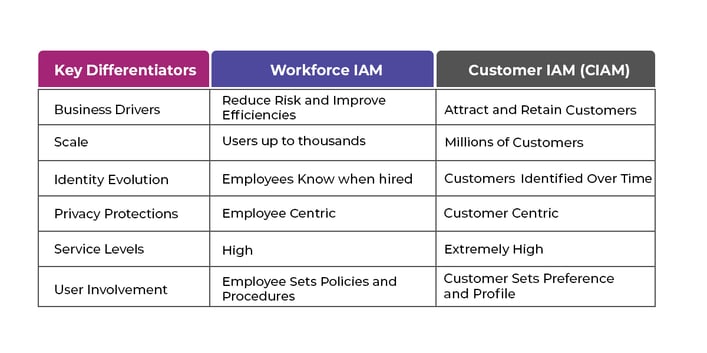 Modern CIAM technologies eliminate annoying user experiences and security challenges. It helps organizations thrive by allowing them to acquire customers faster, deliver great experiences, and protect customer data, identity, and privacy.
CIAM combines login and authorization into customer-facing apps. It is responsible for accomplishing three key tasks:
Enhance user registration and login service for consumers while providing security solutions by lowering the danger of unauthorized parties
Provide consumers, companies, and corporate customers with personalized and unique experiences
Ensure a scalable system with the ability to accommodate hundreds of millions of users
How CIAM solutions can deliver value
CIAM can be deployed through a centralized platform (on-prem or SaaS) with a data repository to store identity profiles that connect apps and services to personalized user experiences. Here are the critical CIAM capabilities through which customers can experience security and privacy while having complete control over their preferences, profile, and data.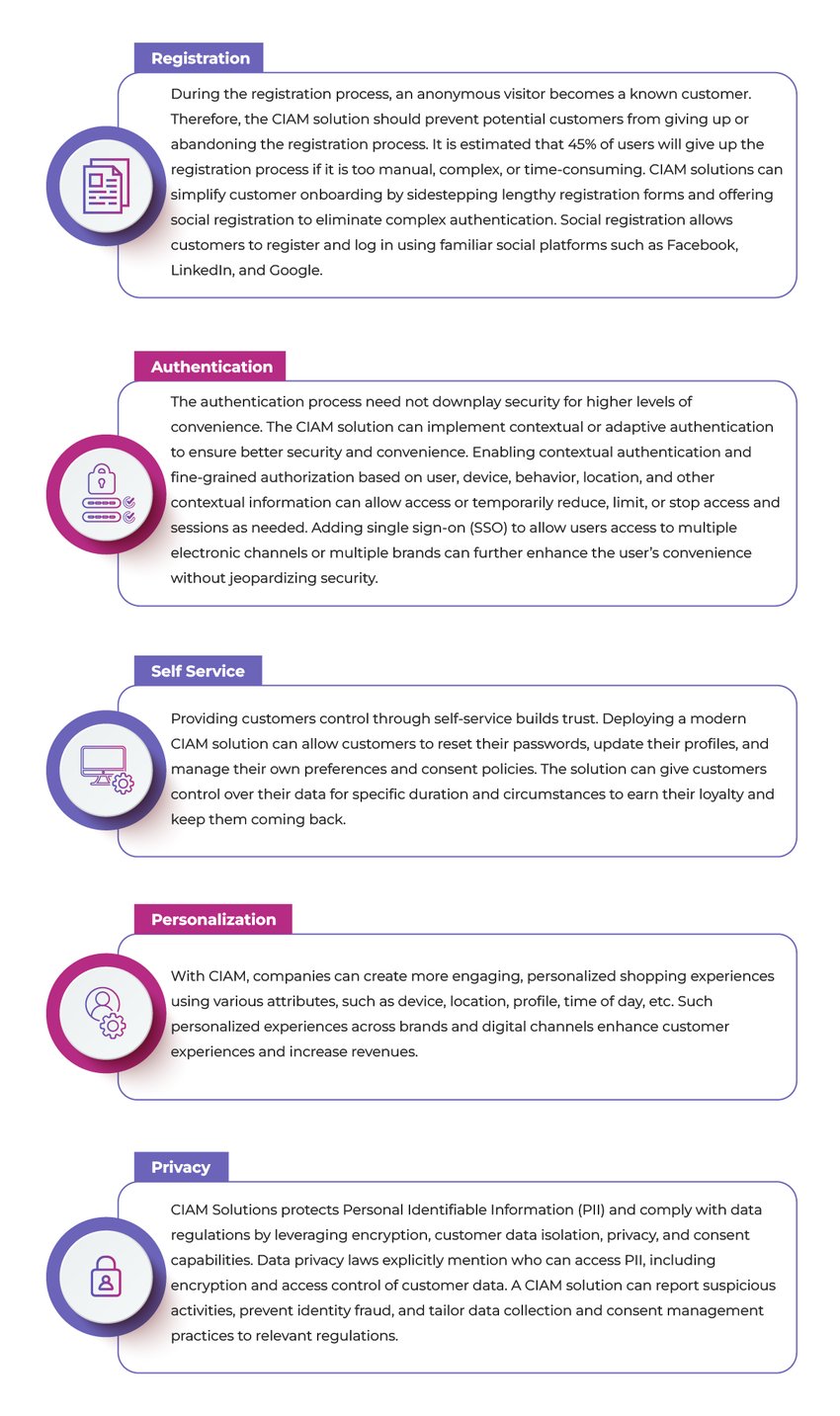 Operational benefits of CIAM
Modernizing customer experiences using a CIAM platform is ideal for business growth. Best-in-class CIAM platforms support hybrid environments and can seamlessly integrate, centralize and manage identities and data across on-premise data centers, cloud, and virtualized environments. The platforms are massively scalable and offer capabilities to accelerate customer acquisition and retention while meeting security standards and expectations.
Here are a few facts that make CIAM an essential capability you should invest in.
CIAM can mitigate the risks of a data breach by only allowing users to gain data access by verifying their identity and the permissions they have.
Enable quick compliance to international privacy and data protection laws (GDPR, SOX, PCI-DSS, CCPA, etc.) and nurture customer trust by empowering them with more power over their data, profile, and privacy setting via a central portal.
Reduce help desk calls through self-service account management and single sign-on capability to access multiple services. Empower partners and customers to use digital services within specified parameters without calling the help desk.
Make life easy for customers
Ensure customer loyalty and retention through experiences such as single sign-on, which enables existing customers to use your services without additional registration. You can also streamline the sign-up and onboarding of customers through simplified registration processes.
Develop customer insights
Integrate CIAM with CRM and analytics to deeply understand customer behavior and deliver personalized experiences across channels.
CIAM is the answer
CIAM solutions provides your customers better convenience, security, and experience while managing their identity and access privileges. The complex task of managing and administering identities is taken care of by empowering the customers to self-manage their identities. An ideal solution for you when you operate across geographies, CIAM can help you comply with global data regulations, ensure data privacy, and exercise customer controls. By converging the best of customer experience, analytics, security, and identity and access management, CIAM is one of your go-to solutions to make your organization truly customer-centric.
CIAM is a crucial component of digital infrastructure when dealing with your customer's digital identities. To know more about Aujas Customer Identity and Access Management solutions, talk to our experts at contact@aujas.com.